AS A WRITER
Emily Jiang is the author of Summoning the Phoenix: Poems & Prose about Chinese Musical Instruments, illustrated by April Chu and published by Shen's Books, an imprint of Lee & Low Books.  Listed among The Best Children's Books of 2014 at Kirkus Reviews and The Huffington Post, Summoning the Phoenix also won an Eureka! Honor Award from the California Reading Association and was a finalist for the Northern California Book Award.  Emily holds an MFA in Creative Writing from Saint Mary's College of California and a BA in English from Rice University.  She is also a graduate of the Clarion Writers' Workshop, the Chautauqua Writers' Conference, the Napa Valley Writers' Conference, and the VONA/Voices of Our Nation Workshop.  Her fiction has won several awards, including Top Prose Prize in The Binnacle's Ultra Short Competition, First Place in the Tom Howard/John Reid Short Story Contest, and the Sue Alexander Award for Most Promising New Manuscript from the Society of Children's Book Writers and Illustrators.  Her prose and poetry has been published in Apex Magazine, Stone Telling, Strange Horizons, Goblin Fruit, The Cascadia Subduction Zone, Interfictions, and The Moment of Change anthology of feminist speculative poetry.  She wrestles with words everyday.  Sometimes she wins.  Other times, it's a draw.
AS A MUSICIAN AND COMPOSER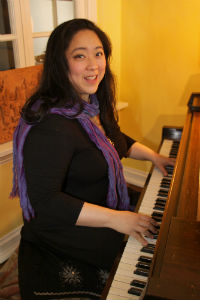 Emily Jiang plays piano in a piano trio and sings and solos with the award-winning Peninsula Women's Chorus and its small ensemble Alla Breve.  The recipient of a Thera Rabinowich Award for Musicianship and Community Service, Emily co-founded The Rice Philharmonics, the university's first co-ed student a cappella group.  Since then, she has sung in several a cappella groups and played piano in small chamber ensembles.  Her musical influences range from Western classical composers like Beethoven, Bach, Mozart, Debussy, Rossini, Rachmanioff to Broadway composers like Stephen Sondheim, Claude-Michel Schonberg, Alan Menkin, and Andrew Lloyd Webber to Chinese pop songs of the late 20th century and Korean pop songs of the early 21st century.  Her favorite contemporary choral composers include Kirke Mechem, Brian Holmes, Joan Szymko, Javier Busto, Alberto Grau, Stacy Garrop, Ron Jeffers, Veljo Tormis, Chen Yi, and Libby Larsen.  Her compositions range from art songs to chamber music to piano solo works, though her primary musical focus is choral music for treble and mixed voices, since she delights in the challenge of setting words to song.
SELECTED HONORS & AWARDS (WRITING)
Kimberly Colen Memorial Grant
Sue Alexander Award for Most Promising New Manuscript
1st Place for YA Novel Category of Focus on Writers Contest
1st place for Foster City International Writer's Contest
Olympiad of the Arts Grand Prize for Short Story
Honorable Mention in the Katherine Paterson Prize
Agnes Butler Scholarship from Saint Mary's College of California
MFA Teaching Fellowship from Saint Mary's College of California
Clarion Foundation Scholarship
MFA Scholarship for the San Francisco Writers Conference
For more information on bringing Emily to speak at your event, go to her Author Visit page.