So now that Summoning the Phoenix will soon be out in the world in April, it's time to update my official author photo.  I'm grateful that my friend Donia, with the helpful comments of Alex, took some photos of me with her awesome fancy camera.  But there are so many options, and though I narrowed to four, I still cannot decide.  So I need your help.  Please vote for your favorite in the comments.  Thanks!
Below is Option 1 aka Emily with Camellias
Below is Option 2 aka Emily with Red Berries
Below is Option 3 aka Emily Holding Her Book Summoning the Phoenix
Below is Option 4 aka Emily Reading Book Summoning the Phoenix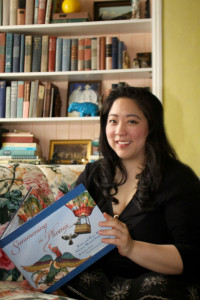 And finally, just for laughs, not for serious votes…Emily Rolling Her Eyes at the Absurdity of Getting Her Photo Taken.
Thanks for your thoughts!